Corporate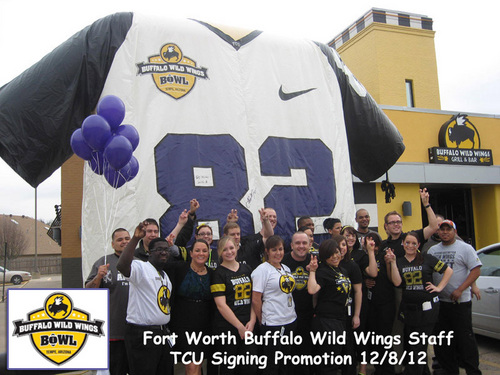 TCU and Michigan State fans sign their Giant Jersey at Bowl Selection parties near campus. The two huge jerseys will appear at Bowl Week events in AZ and then become the centerpiece of a huge tailgating party in Tempe on gameday.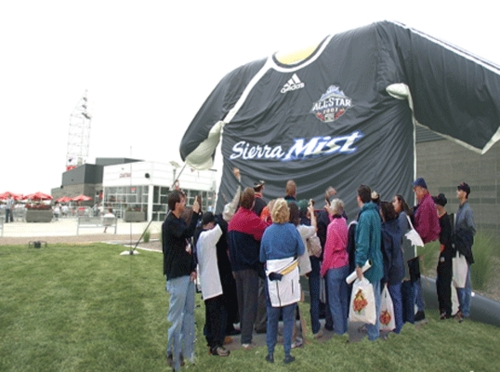 With Sierra Mist as the key sponsor, this Giant Jersey involved fans of the MLS All Stars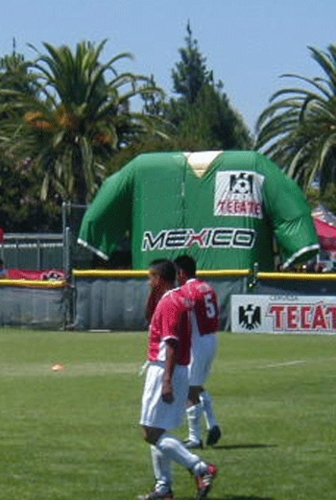 COPA TECATE

For three years, Tecate Beer sponsored a nationwide amateur soccer tournament. The World's Largest Mexican National Team Jersey appeared throughout the conutry at the tournament venues.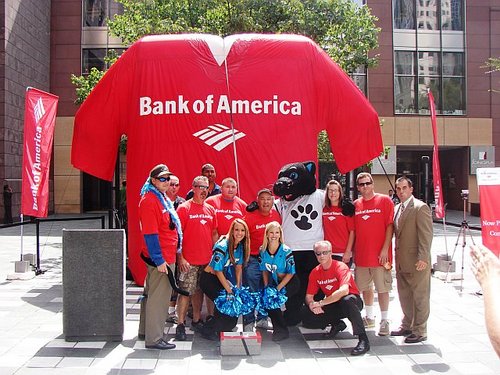 BofA staffers, customers, Panther cheeleaders and mascot meet at the kickoff of a Giant Jersey promotion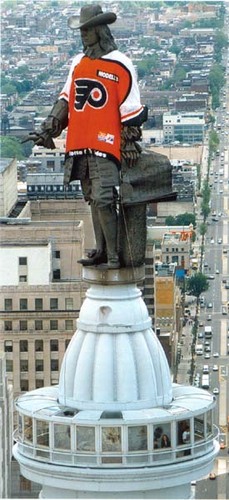 This is the original Giant Jersey. Local retailer Modells displayed the World's Largest Flyers Jersey at its dozen stores during the Playoffs and 28,204 fans signed it. The Giant Jersey was then put on the statue of William Penn atop Philadelphia City Hall during the Cup Finals.

FYI NOTE: The 'dressing' of Billy Penn was a media sensation in Philly and picked up by the international press, including frontpage coverage in USA Today.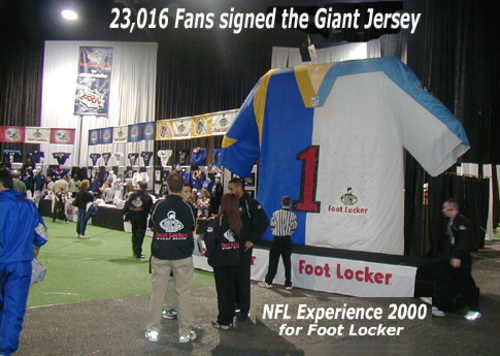 Foot Locker used a 'split' Giant Jersey (Rams/Titans) at the entrance of its NFL Experience display at the Super Bowl. Fans of each team signed the appropriate side.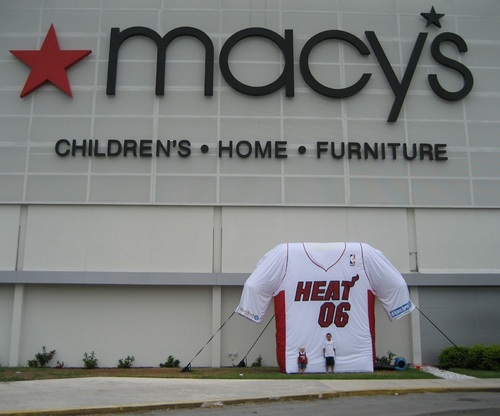 The Miami Herald incorporated its client, MACY's, into the World's Largest Jersey promotion. The Giant Jersey appeared at many MACYs locations during the NBA Playoffs and was on the parade route during the Heat's victory celebration.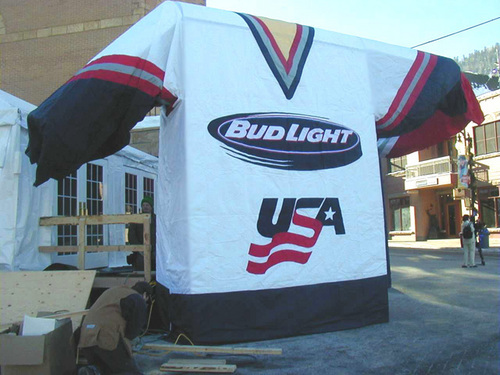 Bud Light, as a major sponsor of the U.S. Olympic hockey team, used a pair of Giant Jerseys at the front of its interactive ("Bubble Hockey") hospitality tent in Park City, UT.

Action Sports positioned the two Giant Jersey so it created a backdrop for the Weather Channel, who broadcast four times daily from the site... giving A-B added bonus media exposure.

FYI NOTE: One week prior to the Olympics, Action Sports was informed it could not use an inflatable in Park City. A quick Plan B called for a wood frame construction which was instaled overnight, just prior to the Opening Ceremony.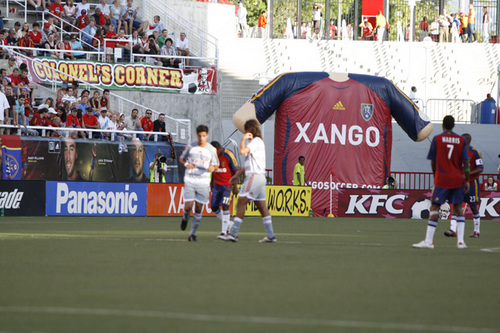 XANGO -- as the first on-jersey sponsor in the MLS -- utilized a pair of Giant Jerseys to leverage its special corporate sponsorship. Real Salt Lake placed the Giant Jersey on the field on gamedays & used it throughout its market and helped merchandise sales of its jersey.