Non-Profits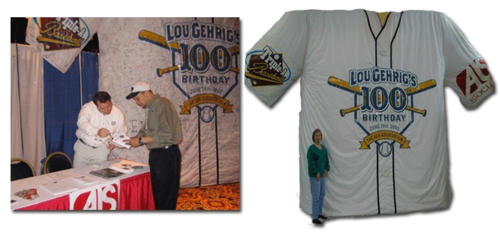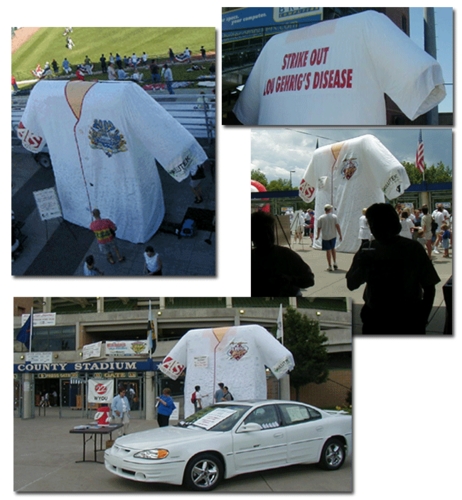 The ALS Association put the World's Largest Lou Gehrig Jersey on tour and within 3 seasons there were 2 Giant Jerseys stopping at 60 minor league team markets.

ALS gained the following objectives:
1. Engage the local team, the public and corporate sponsors
2. Distribute information at high traffic events
3. Easy to implement, high visibility program to be used in many venues.
4. Raise funds in support of ALSA programs.
The local affiliates works with the local team and develops a PR event in addition to leveraging all of the team's promotional outlets.

Fans sign the Giant Jersey after making a donation. Up to 35,000 can fit on the big Jersey.

The national office gained sponsorship support and the local chapters and affiliates have added sponsors.
The ALS Jersey is prominently displayed at the Baseball Winter Meetings, attended by the owners, management and staffs over 200 professional baseball teams.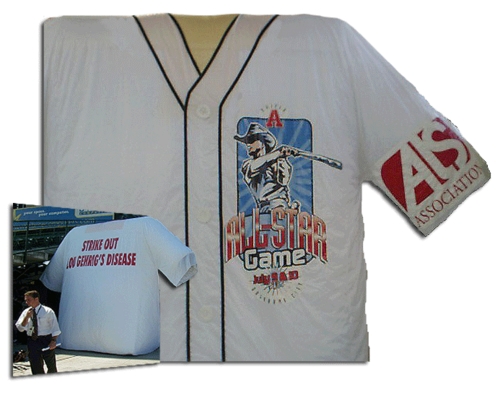 The ALS Association national office and ACTION Sports America created a promotional program for the AAA Minor League Baseball All Star Game. The local chapter exhibited the specially designed Lou Gehrig #4 Giant Jersey throughout the All Star city and at the stadium festivities.

ALSA realized its goals to educate the public of the services ALS provides and fund raising.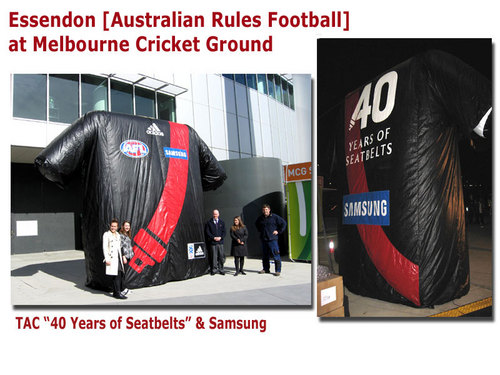 Commissioned by Grey Advertising (Australia) client TAC, this World's Largest essendon Jersey was produced as part of the 40 Years of Seatbelts Anniversary promotion. A seat-belt replaced the team's usual sash on the one-off 'jumper.'

It appeared at a press conference to announce the 'buckle-up' initiative and at the world famous Melbourne Cricket Ground during the Essendon-Collingwood match.